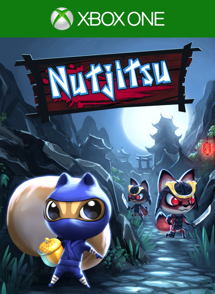 Content: Nutjitsu
Check price and availability in your Xbox LIVE region
Enter the squirrel! Defy the kitsune samurai who stole your clan's sacred acorns. Sneak through beautifully hand-painted landscapes, avoid capture by the guards, and snatch victory (and acorns) from your enemies. The vigilant foxes track your silent steps by scent. Keep ahead of them or use your ninja arsenal to escape. Use smoke bombs, ninja speed, shadow clones, freeze bombs, and flame cloaks to defeat your enemies. Hone your skills with Ninja Missions or train for endurance in Survival mode. Baffle your foes across 15 maps, attain 25 ranks, and conquer 5 difficulty levels. Master the way of Nutjitsu!
---
We asked developer Ninjabee to tell us a bit more about Nutjitsu, including the fact that you can play it while, for instance, you're waiting for a multiplayer game to place you in a match. From Producer Ben Bascom:
The early days of a console are always exciting. We are thrilled to be an early participant in Xbox One history. Thanks to the [email protected] team for helping to get Nutjitsu out there! Nutjitsu is undoubtedly a throwback to addictive, retro game designs updated with great new art and an awesome theme.

In terms of production, it proves that a great game can be developed on Xbox One in a short time frame. Technologically, we are the first to release an Xbox One game that can run like an app.This means you can watch a movie or play another game, then switch over to Nutjitsu for a few minutes without closing your other activity. On top of all that, a ninja squirrel stealing nuts is awesomeness that can't be denied!