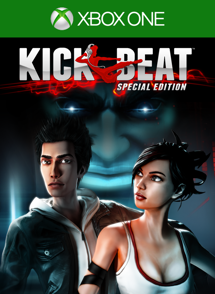 Content:Kickbeat Special Edition

Check price and availability in your Xbox LIVE region
Game Description:From indie pioneers Zen Studios (makers of Pinball FX2 and CastleStorm) comes KickBeat Special Edition, an innovative rhythm game with a Kung Fu theme, featuring fully 3D characters and high-energy music! The KickBeat Special Edition Soundtrack features tracks from a diverse lineup of artists from well known bands such as Pendulum and Marilyn Manson, to indie musicians Celldweller and Blue Stahli, to hidden talents like electronic music producer Voicians and Taiwanese rapper Shen Yi.
We got rid of the bars, arrows, button icons, etc. that other music games rely on as action cues and replaced them with fully 3D animated characters. Instead of just seeing characters in the background moving to a preset script as eye candy while the actual gameplay takes place in an abstract 2D interface, you actually control and react to those 3D characters. That means you actually get to focus your attention on what those characters are doing! As you play the game, you're creating your own fight sequence with your button presses. We also let you get rid of all the other interface parts (such as score) if you like, so that there are no distractions from the action. KickBeat features a full length single player campaign with beautifully hand drawn animations and a unique art style.