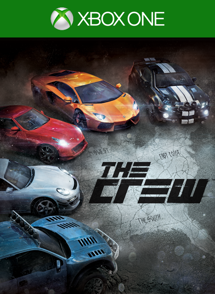 Game Description: To pre-order this game please select one of the pre-order editions from the Xbox Store. XBOX ONE GAME EXPECTED TO RELEASE ON 12/2/2014. YOU MAY DOWNLOAD THE GAME FROM XBOX LIVE BEFORE THEN, BUT IT WILL NOT BE PLAYABLE UNTIL 12:01 AM EST ON THE RELEASE DATE.
The Crew is a revolutionary action-driving MMO that connects players online like never before. The Crew takes you and your friends on a wild ride across a massive, open-world recreation of the United States that is richly detailed and loaded with endless challenges. Generous in content and tailored for the connected generation, The Crew is the next-gen game that redefines action-driving.
There are 2 versions of The Crew available for pre-order – the Limited Edition and the the Gold Edition. Click each link for more details or see below.
Xbox One The Crew Limited Edition, available starting today for $59.99 includes the standard game, and get access to all the pre-order bonus: 10,000 Crew Credits, and the MINI COOPER S and Street Edition Pack containing : -A full set of custom parts (front bumper, rear bumper, motor hood, rear wing). -A full set of performance parts (motor core, tires, suspension, weight reduction, chassis, brakes, anti-roll bars, differential, engine, exhaust, ecu, carb, charger, gear box), and an exclusive sticker created by the community
Xbox One The Crew Gold Edition, available starting today for $84.99 includes the game and the Season Pass.