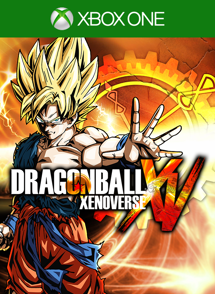 Content: Dragon Ball Xenoverse
Check price and availability in your Xbox LIVE region
Game Description: To pre-order this game please select one of the pre-order editions from the Xbox Store. XBOX ONE GAME EXPECTED TO RELEASE ON 2/24/2015. YOU MAY DOWNLOAD THE GAME FROM XBOX LIVE BEFORE THEN, BUT IT WILL NOT BE PLAYABLE UNTIL 12:01 AM EST ON THE RELEASE DATE.
The latest Dragon Ball game lets players customize and develop their own warrior from 5 races, including male or female, and more than 450 items to be used in online and offline adventures. Create the perfect avatar, learn new skills and train under the tutelage of your favorite Dragon Ball characters. Join 200+ players around the world in the Toki Toki City hub and fight with or against them, and compete in online tournaments!
Pre-Order Dragon Ball Xenoverse from the Xbox Games Store
Pre-Order Dragon Ball Xenoverse + Bonus DLC + Season Pass from the Xbox Games Store