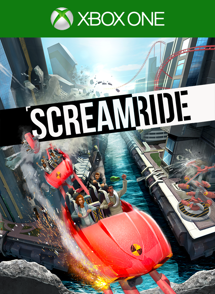 Game Description: XBOX ONE GAME EXPECTED TO RELEASE ON 3/3/2015. YOU MAY DOWNLOAD THE GAME FROM XBOX LIVE BEFORE THEN, BUT IT WILL NOT BE PLAYABLE UNTIL 12:01 AM EST ON THE RELEASE DATE.
This game features stunning high definition graphics, hundreds of customizable building components, physics-based destruction, cinematic collisions, unlockable levels, in-game leaderboards, global rankings and more. ScreamRide is the home of limitless innovation. Push the boundaries of thrill seekers everywhere. Take on your perfect role to complete each level in multiple ways. Scream seekers can prove their precise piloting skills, engineers can solve cunning construction puzzles and demolition experts can ignite the most explosive carnage possible. The path you choose is up to you!
The live demo available for Xbox One and Xbox 360 offers players a small slice of the campaign, allowing players the opportunity to create, ride, and destroy to perfection in their quest for the highest scream ratings.