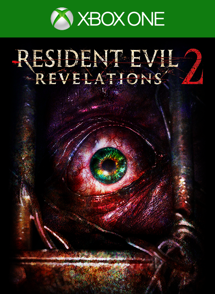 Title: Resident Evil Revelations 2 Episode Two: Contemplation
Check price and availability in your Xbox LIVE region
Game Description: Resident Evil Revelations 2 follows two interwoven stories of terror across 4 episodes of intense survival horror. In Episode Two, Claire and Moira have escaped the detention facility and joined up with other Terra Save members, only to learn they are infected with a deadly virus. Can the group overcome desperation and fear to escape the island alive?
NOTE: Requires Episode One to play. Do NOT purchase Episode Two if you already own Resident Evil Revelations 2 Season Pass or the Complete Season bundle.
Purchase Resident Evil Revelations 2 (Episode Two) for Xbox One from Xbox Games Store
Purchase Resident Evil Revelations 2 (Episode Two) for Xbox 360 from Xbox Games Store
Purchase Resident Evil Revelations 2 – Complete Season for Xbox One from Xbox Games Store
Product Info:
Developer: CAPCOM CO., LTD.
Publisher: CAPCOM CO., LTD.
Website: http://www.residentevil.com/
Twitter: @RE_Games