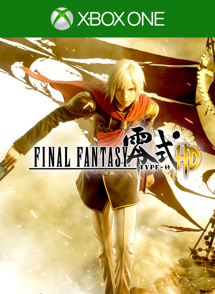 Title: Final Fantasy Type-0 HD
Check price and availability in your Xbox LIVE region
Game Description: Final Fantasy Type-0 makes its Western debut as Final Fantasy Type-0 HD. Step into the fray as Class Zero, a group of fourteen students from an elite military academy whose country is attacked by an aggressive neighboring Empire. Using the powerful abilities and magic of all fourteen characters in fast-paced action-RPG combat, players must face the brutality and injustices of war to uncover the secrets of its genesis.
Check out the Getting Up to Speed with Final Fantasy Type-0 HD feature at Xbox Wire.
Purchase Final Fantasy Type-0 HD for Xbox One from Xbox Games Store
Purchase Final Fantasy Type-0 HD Digital Day One Edition for Xbox One from Xbox Games Store (LIMITED TIME ONLY)
Product Info:
Developer: Square Enix
Publisher: Square Enix
Website: http://finalfantasytype0.com/
Twitter: @FinalFantasy