Mortal Kombat X is out now for Xbox One and what better way to play the game than with the Mortal Kombat X official wired fight pad from Performance Designed Products.
The Mortal Kombat X Wired Fight Pad for Xbox One/Xbox 360/PC is a multi-compatible controller developed for fighting games featuring a 6 button layout and ergonomic grip easily adapting to your play style. You can purchase it from Amazon or other popular retailers.
Or you can try your luck at winning one here.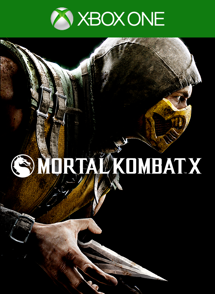 How do you enter for a chance to win?
Simple. All you have to do is leave a comment below to this post answering the following question:
Who is your favorite character from the Mortal Kombat series and why?
What can you win?
Two people will be randomly selected to win:
-Mortal Kombat X for Xbox One (code for digital download) + Mortal Kombat X wired fight pad
What are the rules?
Leave a comment below answering who your favorite Mortal Kombat character is and why. Do not @ reply me on Twitter. That won't count!
Deadline to enter is 4:00 pm PT on Friday, 17 April 2015. One entry per person. Contest is open to everyone but prize availability might not be available in all regions – check the availability of Mortal Kombat X in your Xbox LIVE region. Winners will be notified via the e-mail account associated with their Disqus account or Twitter (when applicable) on or about 17 April. We use the Disqus commenting system – read this if you have questions about Disqus.
Have fun and good luck!
Note: If you do not have an e-mail address or Twitter name associated with your Disqus login, you must include this information in your comment to be eligible. Any winner who does not respond to my notification within 72 hours will forfeit the prize. For faster notification, follow me on Twitter where I can DM you if you win. Only comments received at www.majornelson.com will be considered.
UPDATE: Winners have been notified via email. Thanks to all those who participated.