Category:

Xbox Store
State of Decay: Year-One Survival Edition (Day One Edition) is Now Available for Digital Pre-order and Pre-download on Xbox One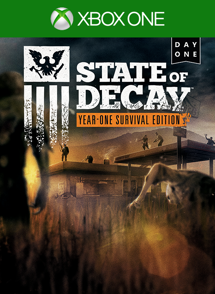 Game Description: XBOX ONE GAME EXPECTED TO RELEASE ON 4/28/2015. YOU MAY DOWNLOAD THE GAME FROM XBOX LIVE BEFORE THEN, BUT IT WILL NOT BE PLAYABLE UNTIL 12:01 AM EST ON THE RELEASE DATE. Once purchase is complete, download this game by selecting the "Manage" button on the product details page on your console.
State of Decay: Year-One Survival Edition brings the hit zombie survival-fantasy franchise to Xbox One and includes the Breakdown and Lifeline add-ons. Features new missions, weapons, and extra content, along with improved lighting, textures, animations and combat mechanics.
Purchase the Day One Edition and get the exclusive "Prepper's Pack".
Day One Edition is only available until May 12, 2015. Additionally, State of Decay Xbox 360 owners instantly receive a 33% discount on the Day One Edition.
NOTE: I will be streaming State of Decay: Year-One Survival Edition from the Undead Labs studio tomorrow. Details here.