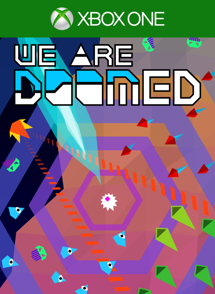 Title: WE ARE DOOMED
Check price and availability in your Xbox LIVE region
Game Description: WE ARE DOOMED is a twin-stick shooter where you zap polygon baddies with an absurdly overpowered laserbeam. Dive head-first into the action with reckless ambition, charge the SUPERBEAM, and zap everything out of existence in an instant. Chase high scores or just enjoy the beautiful explosion of geometry, color and light. Pure arcade action. No cutscenes, storylines, or lengthy tutorials.
Purchase WE ARE DOOMED for Xbox One from Xbox Games Store
NOTE: Xbox Live Gold Members get a 10% discount – offer valid until 23 April.
Product Info:
Developer: Vertex Pop
Publisher: Vertex Pop
Website: WE ARE DOOMED
Twitter: @vertexpop