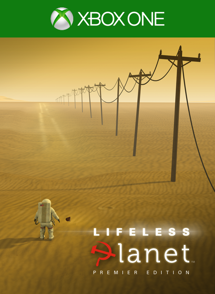 Content: Lifeless Planet: Premier Edition
Check price and availability in your Xbox LIVE region
Game Description: Lifeless Planet is a third-person action-adventure that features an old-school sci-fi story and spectacular environments in the spirit of classic action-adventures. After a hard landing on the planet, the astronaut discovers the planet that was reported to be rich with life is instead a barren wasteland. When he goes searching for his crew, he makes a more startling discovery: evidence that humans have already been to this planet years ago! When he comes upon a deserted Soviet-era Russian town, he struggles to make sense of his mission. Explore 20 unique and atmospheric environments on a vast and treacherous planet.
Xbox Live Gold members save 20% when they purchase Lifeless Planet (for a limited time only).
*Please note: prices and availability are subject to change and may vary by region.
Purchase Lifeless Planet: Premier Edition for Xbox One from the Xbox Games Store
Product Info:
Developer: Stage 2 Studios
Publisher: Stage 2 Studios
Website: Lifeless Planet
Twitter: @LifelessPlanet