Category:

Xbox Store
Payday 2: Crimewave Edition is Now Available for Digital Pre-order and Pre-download on Xbox One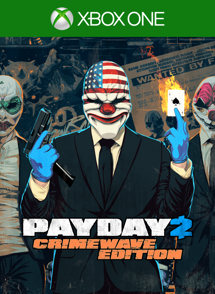 Game Description: XBOX ONE GAME EXPECTED TO RELEASE ON 6/16/2015. YOU MAY DOWNLOAD THE GAME FROM XBOX LIVE BEFORE THEN, BUT IT WILL NOT BE PLAYABLE UNTIL 12:01 AM EST ON THE RELEASE DATE.
PAYDAY is an action-packed, four-player co-op shooter where you rob banks and get paid. The Crimewave edition includes an enhanced graphic engine. Up to four friends co-operate on the hits and as the crew progresses the jobs become bigger, better and more rewarding. The pre-order edition includes the pre-order lootbag content, adding new gear, masks and money to your game.
Pre-order the game now and save 25% – offer valid for a limited time for Xbox Live Gold and Silver members.