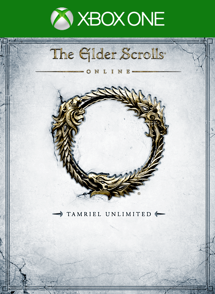 Game Description: XBOX ONE GAME EXPECTED TO RELEASE ON 6/9/2015. YOU MAY DOWNLOAD THE GAME FROM XBOX LIVE BEFORE THEN, BUT IT WILL NOT BE PLAYABLE UNTIL 12:01 UTC ON THE RELEASE DATE. Once purchase is complete, download this game by selecting the "Manage" button on the product details page on your console.
Experience this multiplayer roleplaying game on your own or together with your friends, guild mates, and thousands of alliance members. Explore dangerous caves and dungeons in Skyrim, or craft quality goods to sell in the city of Daggerfall. Embark upon adventurous quests across Tamriel and engage in massive player versus player battles, or spend your days at the nearest fishing hole or reading one of many books of lore. The choices are yours in the persistent world of The Elder Scrolls Online: Tamriel Unlimited.
The Elder Scrolls Online – Pre-Order Edition – Pre-order The Elder Scrolls Online: Tamriel Unlimited and receive the Explorer's Pack. The Explorer's Pack grants the ability to play any race in any alliance, an exclusive pet, and bonus treasure maps.
The Elder Scrolls Online – Imperial Pre-Order – Enhance your adventures with The Imperial Edition Upgrade. The Imperial race is able to play in any alliance you choose. You'll be able to travel around Tamriel with your trusty Imperial White Horse. Your character will have immediate access to craft Imperial gear, or transform existing gear into the Imperial style.