Beyond just a racing franchise, the Forza series has always been a celebration of racing, a love letter to the sport, the cars, and the people who push everything to the absolute limit so they can be the fastest, the sleekest, and the first across the line.
One of the cars to make its videogame debut in Forza Motorsport 6 is the all-new Ford GT. A pre-production version of the car — and the first-ever to be built — made a dramatic entrance at the Xbox E3 Briefing, lowered down from the rafters just moments before its digital version appeared on-screen. And that's just one of the 450 amazing vehicles to grace the latest version of the best racing franchise around.
Forza Motorsport 6 lines up over 450 cars and 26 tracks, compared to the 200 cars and 14 tracks in Forza 5. 10 of those tracks are brand-spanking-new too, like the iconic Daytona, and the sun-soaked Rio, Brazil.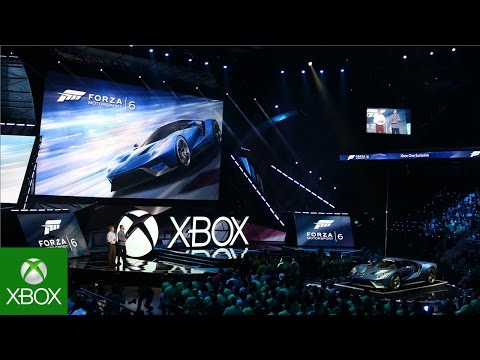 Color and lighting are being shown in their full array, not only in the cars, but also in the environments. Tearing through the track in Rio involves multiple passes under rainbow-colored tarps, or along brightly painted murals, the colors of which reflect and dance off the car's paintjob.
In the course we got to drive on, we experienced new features for the Forza series: night and rain. The nighttime driving further highlights the impressive lighting effects of Forza 6; the lights along the track, the light-up stands, and the different colors that illuminate the race all add to the spectacle. But it's the wetness that really had us floored…and then had us skidding and hydroplaning into a tire barricade.
See, Forza 6's water physics are far more than just a uniform slickness modifier on the track. The team at Redmond-based Turn 10 is rather familiar with driving in wet conditions, and they've sought to make the experience feel as real as possible. To that end, there's a difference in the traction and water depth on different parts of the course. A small divot might hold a puddle, and hitting that puddle will feel different, and cause a different reaction, than a different patch of wet road. It's an exciting and challenging experience, as each wet turn required a different, nuanced level of control. Needless to say, we lost control a lot.
Beyond that, Forza 6 looks, feels, and sounds amazing across the board. The level of visual detail inside the cars is astounding, and even over the bustle of E3 we could appreciate the rumbling purr of a supercharged engine just itching to be unleashed.
But perhaps the best news is that a release date has been revealed, and it's earlier than you may have thought.Forza Motorsport 6 hits Xbox One on September 15 – a mere three months from now.