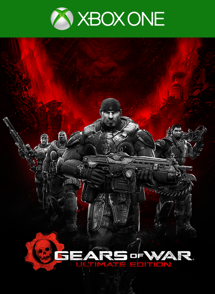 Content: Gears of War: Ultimate Edition
Check pre-order price and availability in your Xbox LIVE region
Game Description: The landmark original Gears of War returns, stunningly remastered and modernized for Xbox One. Emergence Day set in motion a brutal war that would both shatter humanity and forge a valiant band of heroes. Revisit the explosive events that lead to the beginning of Gears of War in this opening cinematic for Gears of War: Ultimate Edition.
Purchase Gears of War: Ultimate Edition for Xbox One from the Xbox Games Store
Purchase Gears of War Ultimate Edition Deluxe Version for Xbox One from the Xbox Game Store
Product Info:
Developer: The Coalition
Publisher: Microsoft Studios
Website: Gears of War
Twitter: @GearsofWar