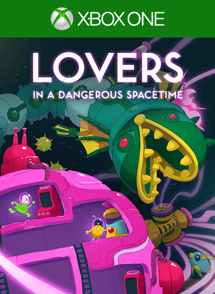 Content: Lovers In A Dangerous Spacetime
Check pre-order price and availability in your Xbox LIVE region
Game Description: XBOX ONE GAME EXPECTED TO RELEASE ON 9/9/2015. YOU MAY DOWNLOAD THE GAME FROM XBOX LIVE BEFORE THEN, BUT IT WILL NOT BE PLAYABLE UNTIL 12:01 AM UTC ON THE RELEASE DATE.
Lovers In A Dangerous Spacetime is a frantic 1- or 2-player couch co-op action space shooter. Explore a colorful galaxy in a massive neon battleship that you control together by manning turrets, lasers, shields and thrusters. Only through teamwork can you triumph over the evil forces of Anti-Love, rescue kidnapped space-bunnies, and avoid a vacuumy demise.