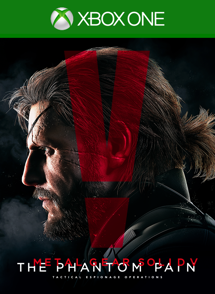 Content: Metal Gear Solid V: The Phantom Pain
Check price and availability in your Xbox LIVE region
Game Description: One of the most anticipated games of the year with its open-world design, photorealistic visual fidelity and feature-rich game design, MGSV: The Phantom Pain will leave its mark as one of the hallmarks in the gaming industry for its cinematic storytelling, heavy themes, and immersive tactical gameplay. The year is 1984. The Cold War serves as the backdrop as nuclear weapons continue to shape a global crisis. Driven by revenge, Snake establishes a new private army and returns to the battlefield in pursuit of the shadow group, XOF.
Purchase Metal Gear Solid V: The Phantom Pain for Xbox One from the Xbox Games Store
Purchase Metal Gear Solid V: The Phantom Pain for Xbox 360 from the Xbox Games Store
Product Info:
Developer: Konami Digital Entertainment
Publisher: Konami Digital Entertainment
Website: Metal Gear Solid V: The Phantom Pain
Twitter: @metalgear_en