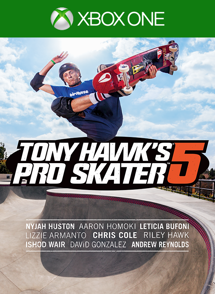 Content: Tony Hawk's Pro Skater 5
Check pre-order price and availability in your Xbox LIVE region
Game Description: XBOX ONE GAME EXPECTED TO RELEASE ON 9/29/2015. YOU MAY DOWNLOAD THE GAME FROM XBOX LIVE BEFORE THEN, BUT IT WILL NOT BE PLAYABLE UNTIL 12:01 AM EST ON THE RELEASE DATE.
Tony Hawk's Pro Skater 5 offers a fresh take on combo-driven skateboarding, the most advanced online multiplayer experience, and a state-of-the-art skatepark builder. Ride, build, and repeat! Pull off infamous Pro Skater moves and extended trick combinations. Complete objectives during online skate sessions and challenge other players from around the world to see who reigns supreme. Create and share the sickest skateparks using over 250 obstacles and let loose on the most twisted designs from the community.
Xbox One Pre-Order FAQ