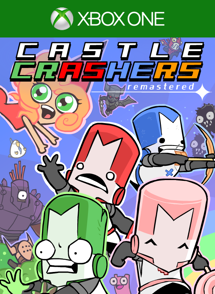 Content: Castle Crashers Remastered
Check price and availability in your Xbox LIVE region
Game Description: Hack, slash, and smash your way to victory in this Remastered edition of the popular 2D arcade adventure from The Behemoth! Up to four friends can play locally or online and save your princess, defend your kingdom, and crash some castles! Features more than 25 characters and over 40 weapons! Level up your character and adjust Strength, Magic, Defense, and Agility. Includes adorable animal orbs as your companions and each one adds different abilities to aid you on your journey.
If you owned Castle Crashers on Xbox 360, Castle Crashers Remastered is available for free. Details here.
Try Castle Crashers Remastered For Free