Post updated 9/15/15 – 9 a.m. PDT

Xbox One is the home for racing this generation. Between Forza Motorsport 5 and Forza Horizon 2, over seven million unique players have joined the Forza community, racing on Xbox One.

For the millions of racing fans on Xbox One, the wait is over. Forza Motorsport 6, the biggest Forza ever created, including 460 cars, 26 world-famous locales and 24-car multiplayer, is now available to all players in North America and Australia today, with availability in Europe on Friday, Sept. 18.

Most returning Forza players will begin the game with at least one free car in Forza Motorsport 6 as part of the Forza Rewards program, with experienced players receiving up to eight cars in their garage, including the Lamborghini Aventador and Ferrari #62 Risi Competizione 458 Italia GTLM.

Additionally, all players of the Forza Motorsport 6 demo – more than one million so far – will immediately unlock the game's cover car, the all-new 2017 Ford GT, in the full game at no additional cost.

Xbox One Forza Motorsport 6 Limited Edition Console

Featuring a racing-inspired design with iconic sports car styling and custom automotive sound effects, the Forza Motorsport 6 Limited Edition Console is the first custom console from Xbox with a racing theme. The bundle includes a 1TB hard drive, matching wireless controller with rubberized diamond grips, and a digital copy of Forza Motorsport 6 – all for USD$399.

The bundle is now available in most worldwide markets. Please check your local retailer for availability. 

Car Pass and VIP Membership Now Available
If you're looking for the latest and greatest cars in Forza Motorsport 6, in addition to new events, the Forza Motorsport 6 Car Pass and VIP Membership are available for $29.99 and $19.99 respectively.


Car Pass

– Includes six monthly car packs (seven cars in each pack) beginning in October 2015 for a total of 42 amazing cars, all waiting to be collected, customized, and raced.
VIP Membership

– Includes five exclusive VIP cars – the 2013 Ferrari 458 Speciale, 2012 Aston Martin V12 Zagato, 2013 Lamborghini Veneno, 2016 Ford Shelby GT350R and the 1997 McLaren F1 – plus additional benefits such as double race earnings, access to exclusive online events, community gifts and more.




Fast & Furious Car Pack Available for Free to Ultimate and Deluxe Edition Owners

As previously announced, the Fast & Furious Car Pack is now available for Ultimate and Deluxe Edition owners. In association with our partners at Universal, the pack is available for individual purchase for $9.99 via the Xbox Store, or you can purchase the cars a la carte for $2.99.
Featuring a variety of vehicles from the "Fast & Furious" saga, the pack offers options for racers of all types. From the beastly 2014 Terradyne Gurkha LAPV to the 2002 Nissan Fairlady Z in all of its drifting glory, all of the cars in the pack have been authentically recreated for fans to enjoy. For a closer look at the cars available in the Fast & Furious Car Pack, visit ForzaMotorsport.net.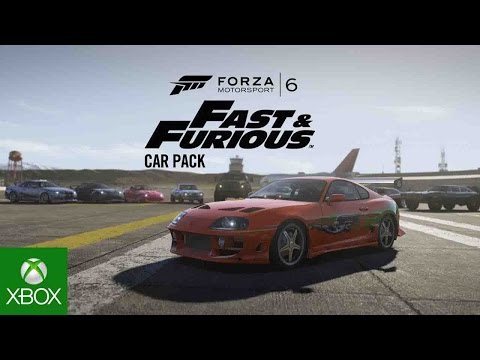 Forza Motorsport Offers at Microsoft stores

Microsoft stores in the U.S., Puerto Rico and Canada are celebrating the launch of Forza Motorsport 6 with exclusive in-store experiences and discounts.Select stores are hosting a Forza Motorsport 6 Challenge on Saturday, Sept. 26 and Sunday, Sept. 27. Fans can visit their local store to take a run on the Rio Track in the Ford GT Mustang with the Playseat Forza Motorsport Racing Seat and the Thrustmaster TX Racing Wheel Ferrari 458 Italia Edition. Log the fastest time and you'll be rewarded with a prize pack from Forza and Thrustmaster.

Fans can also get a 25 percent discount on the Playseat Forza Motorsport Racing Seat and the Thrustmaster TX Racing Wheel Ferrari 458 Italia Edition, in addition to exclusive downloadable content – the Ford GT Mustang.

For more information on Forza Motorsport 6, visit ForzaMotorsport.net and happy racing!