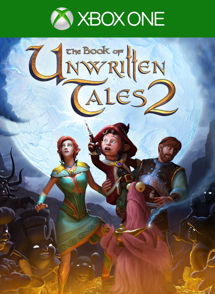 Content: The Book of Unwritten Tales 2
Check price and availability in your Xbox LIVE region
Game Description: The Book of Unwritten Tales 2 is a fantasy story lovingly spoofing Lord of the Rings, Game of Thrones, Harry Potter, Discworld, The Hobbit, World of Warcraft and more. Features hundreds of weird, yet oddly logical puzzles, multi-character gameplay, an ensemble of quirky characters and an epic soundtrack with all the classics and many new compositions. Play as the gnome mage Wilbur, the adventurer Nate, the elf princess Ivo, and Nate's furry companion, the Critter.
Purchase The Book of Unwritten Tales 2 for Xbox One from the Xbox Games Store
Product Info:
Developer: King Art
Publisher: Nordic Games
Website: The Book of Unwritten Tales 2
Twitter: @KingArtGames