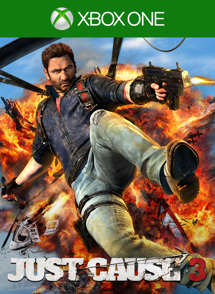 Content: Just Cause 3
Check pre-order price and availability in your Xbox LIVE region
Game Description: XBOX ONE GAME EXPECTED TO RELEASE ON 12/1/2015. YOU MAY DOWNLOAD THE GAME FROM XBOX LIVE BEFORE THEN, BUT IT WILL NOT BE PLAYABLE UNTIL 12:01 AM EST ON THE RELEASE DATE.
Explore a Mediterranean island paradise with complete vertical freedom – skydive, BASE jump and free dive in an open world with virtually zero limits. Use your Grapple and Parachute to scale buildings, hijack vehicles, move quickly or tether objects together for creative new ways to cause Chaos. Cause massive chains of destruction to bring down a dictator.
Pre-order now to secure the exclusive weaponised vehicle pack and Final Argument Sniper Rifle. And for a limited time, purchase Just Cause 3 on Xbox One and receive Just Cause 2 on Xbox 360. The code for Just Cause 2 will be delivered to your Xbox message center in 7-10 days.
Just Cause 3 XL Edition Pre-Order – This bundle includes Just Cause 3, Final Argument Sniper Rifle, Mini-Gun Racing Boat, Combat Buggy, Flame Wingsuit and Parachute Skins, Rocket Launcher Sports Car and Just Cause 3: Air, Land & Sea Expansion Pass.