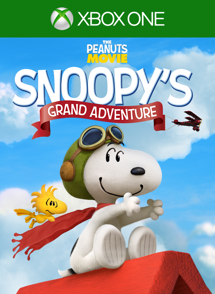 Content: The Peanuts Movie: Snoopy's Grand Adventure
Check price and availability in your Xbox LIVE region
Game Description: Take Snoopy on a grand adventure through amazing environments, created in his imagination, as he tries to find Charlie Brown and all his friends. With Woodstock and the Beagle Scouts by his side Snoopy can unlock new abilities and performs special moves as he weaves his way through this magical journey. Play together: 2-player co-op mulitplayer, play as Snoopy and Woodstock at the same time. Enjoy iconic Peanuts comic strips between levels!
Purchase The Peanuts Movie: Snoopy's Grand Adventure for Xbox One
Purchase The Peanuts Movie: Snoopy's Grand Adventure for Xbox 360  (available soon)
Product Info:
Developer: Behaviour Interactive
Publisher: Activision
Website: The Peanuts Movie: Snoopy's Grand Adventure
Twitter: @Activision