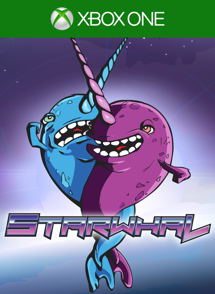 Content: STARWHAL
Check pre-order price and availability in your Xbox LIVE region
Game Description: XBOX ONE GAME EXPECTED TO RELEASE ON 12/09/2015. YOU MAY DOWNLOAD THE GAME FROM XBOX LIVE BEFORE THEN, BUT IT WILL NOT BE PLAYABLE UNTIL 12:01 AM EST ON THE RELEASE DATE.
Flop it out with up to 4 players in a retro, epic narwhal battle in space! This Digital Entertainment Object for Home Console Hardware is all about love, respect, and ALL-OUT MAYHEM. STARWHAL is the number one local multiplayer couch gaming experience featuring marine mammals in outer space. Features: 4 player local multiplayer mayhem, 90+ costumes, 25+ arenas, 4 game modes, 32 single player challenges with leaderboards and achievements.