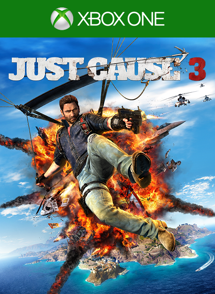 Content: Just Cause 3 Is Now Available For Xbox One
Check price and availability in your Xbox LIVE region
Game Description: Explore a Mediterranean island paradise with complete vertical freedom – skydive, BASE jump and free dive in an open world with virtually zero limits. Glide through the air and swoop across mountains with your Wingsuit giving a new way to rain death from above. Use your Grapple and Parachute to scale buildings, hijack vehicles, move quickly or tether objects together for creative new ways to cause Chaos. Cause massive chains of destruction in military bases, harbors, prisons, police stations and communications facilities to bring down a dictator. Arm yourself with a wide range of explosive weaponry from shotguns and missile launchers to tank-busters and air-strikes.
Purchase Just Cause 3 for Xbox One from the Xbox Games Store
Product Info:
Developer: Avalanche Studios
Publisher: Square Enix
Website: Just Cause 3
Twitter: @justcause
Just Cause 3 – this bundle includes the game.
Just Cause 3 XL Edition – this bundle includes Just Cause 3 and Just Cause 3: Air, Land & Sea Expansion Pass.