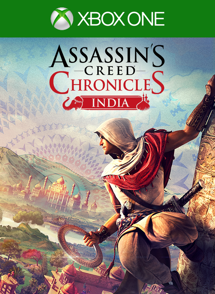 Content: Assassin's Creed Chronicles: India
Check price and availability in your Xbox LIVE region
Game Description: Embody Arbaaz in his quest for retribution through a colorful depiction of 19th century Colonial India in 2.5D stealth gameplay. Travel across an amazing 19th-century India and its legendary landmarks and experience the thrill of being a stealthy assassin. Showcase your fighting talents with the new double kill move, helix strike, or silent takedown. Be more agile than ever in even more platforming levels, and escape through the destructible environments of the squares and bazaars, leaving a trail of chaos in your wake.
Purchase Assassin's Creed Chronicles: India for Xbox One from the Xbox Games Store
Product Info:
Developer: Climax Studios
Publisher: Ubisoft
Website: Assassin's Creed Chronicles: India
Twitter: @assassinscreed