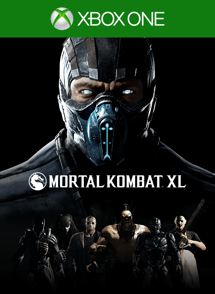 Content: Mortal Kombat XL Preorder
Check pre-order price and availability in your Xbox LIVE region
Game Description: XBOX ONE GAME EXPECTED TO RELEASE ON 3/1/2016. YOU MAY DOWNLOAD THE GAME FROM XBOX LIVE BEFORE THEN, BUT IT WILL NOT BE PLAYABLE UNTIL 12:01 AM EST ON THE RELEASE DATE.
One of the best-selling titles of 2015 has gone XL! Komplete The Mortal Kombat X Experience with new and existing content. Includes the main game, and new playable characters the Xenomorph from Alien, Leatherface, Tri-borg, and Bo'Rai Cho. Previously released playable characters include Predator, Jason Vorhees, Tremor, Tanya, and Goro. Also includes new skin packs Medieval Pack, Apocalypse Pack, and a new environment, the Pit Stage. All previously released skins packs included. Two new character skins. The Cosplay Pack reimagines Mortal Kombat X characters Cassie Cage and Jacqui Briggs as Lin Kuei and Shirai Ryu Ninjas.
Xbox One Pre-Order FAQ