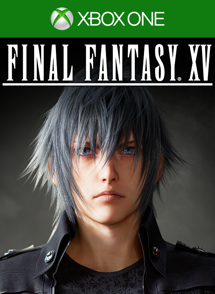 Content: FINAL FANTASY XV
Check pre-order price and availability in your Xbox LIVE region
Game Description: You may pre-download this game, but it will not be playable until 12:01 AM EST on the release date (9/30/2016).
Noctis, crown prince of the magical Kingdom of Lucis, embarks on a quest to reclaim his homeland in this action RPG. Take up the steering wheel and hit the road with your colorful companions to explore a vast and breathtaking world. Invoke the power of your ancestors and effortlessly warp through the air in thrilling combat. Longtime fans and fresh faces alike, get ready to experience cutting-edge interactive entertainment in this fantasy based on reality.
Pre-Order FINAL FANTASY XV and get the Bonus Pack, including avatar items and in-game bonus content, featuring the 16-Bit Buddies car recolor, the legendary Masamune sword, and a handy Angler Set. Full details here.
Download the free PLATINUM DEMO – FINAL FANTASY XV
Xbox One Pre-Order FAQ