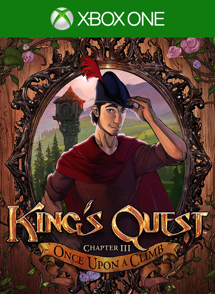 Content: King's Quest – Chapter 3: Once Upon a Climb
Check price and availability in your Xbox LIVE region
Game Description: King's Quest – Chapter 3: Once Upon a Climb is the third of five chapters in the new, critically acclaimed reimagining of the classic King's Quest game series. In his latest adventure, King Graham recounts his most personal tale yet. When the magic mirror reveals the location of his one-true love, Graham must climb to daring new heights to save his future Queen. But what he encounters there might just send his notions of romance sailing out the window.
King's Quest – Chapter 1: A Knight to Remember is required to play this content & is sold separately.
If you already own King's Quest: The Complete Collection or Season Pass, DO NOT repurchase this content here or you will be charged again.
Purchase King's Quest – Chapter 1: A Knight to Remember for Xbox One from the Xbox Games Store
Purchase King's Quest – Chapter 2: Rubble Without A Cause for Xbox One from the Xbox Games Store
Purchase King's Quest – Chapter 3: Once Upon a Climb for Xbox One from the Xbox Games Store
Purchase King's Quest : The Complete Collection for Xbox One from the Xbox Games Store
Purchase King's Quest – Chapter 1: A Knight to Remember for Xbox 360 from the Xbox Games Store
Purchase King's Quest – Chapter 2: Rubble Without A Cause for Xbox 360 from the Xbox Games Store
Purchase King's Quest – Chapter 3: Once Upon a Climb for Xbox 360 from the Xbox Games Store
Purchase King's Quest : The Complete Collection for Xbox 360 from the Xbox Games Store
Product Info:
Developer: The Odd Gentlemen
Publisher: Sierra
Website: King's Quest
Twitter: @TheOddGentlemen