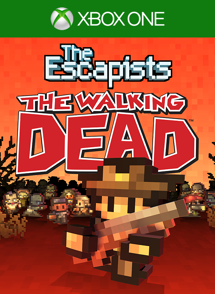 Content: The Escapists: The Walking Dead
Check price and availability in your Xbox LIVE region
Game Description: Merging the award-winning, smash-hit, indie game The Escapists with the worldwide phenomenon that is The Walking Dead, comes The Escapists: The Walking Dead. In this unique game, recreated entirely in the charming 8-bit pixel art style of The Escapists, you play as Rick Grimes as he takes on hordes of zombies let loose upon the world. Rick is in charge of a band of survivors featuring many of the original comic book cast, including Maggie, Hershel, Glenn and Michonne. Rick must secure the safety of the group by seeking out a safe escape route from each area, and manage several dangerous tasks to keep as many of the group alive as possible.
Purchase The Escapists: The Walking Dead for Xbox One from the Xbox Games Store
Update: The Escapists: The Walking Dead is now available on Windows 10 (04 May 2016)
Purchase The Escapists: The Walking Dead for Windows 10 from the Windows Store
Product Info:
Developer: Team17 Digital Ltd
Publisher: Team17 Digital Ltd
Website: The Escapists: The Walking Dead
Twitter: @Escapists_Game