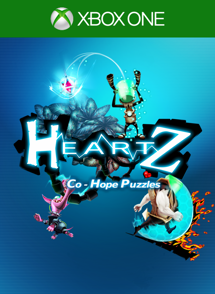 Content: HeartZ: Co-Hope Puzzles
Check price and availability in your Xbox LIVE region
Game Description: HeartZ offers you a hearty combination of platform, action, puzzle and local co-op gaming. Outsmart traps and solve mysteries in each room and level while getting rid of Dr. Nylus' soldiers and machines! Kick, jump, fart, teleport, explode, hack, scare, and bite your way through finely tweaked and mischievously designed levels! Ready to become test subject of the year? Die in many entertaining ways in a colorful and unforgiving world!
Buy now and save 20% – Limited Time Offer.
Purchase HeartZ: Co-Hope Puzzles for Xbox One from the Xbox Games Store
Product Info:
Developer: Upper Byte
Publisher: Neko Entertainment
Website: HeartZ: Co-Hope Puzzles
Twitter: @UpperByteEN / @NekoEnt