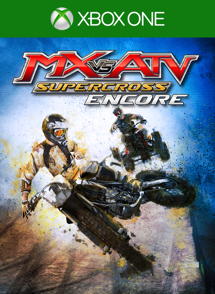 Content: MX vs. ATV Supercross Encore
Check price and availability in your Xbox LIVE region
Game Description: Rip, jump and scrub your way to victory with over 45 tracks in this vastly extended version! Only the Encore edition features the brand new Rhythm Racing mode, extra outdoor Nationals tracks, and exclusive Waypoint races in open world maps. The improved game engine brings remastered HD graphics & sound, smoother online gameplay, and updated riding physics for full control. Bonus for Xbox One: Brand new tracks for Supercross, Nationals and Waypoint plus extra Rhythm Racing tracks!
Purchase MX vs. ATV Supercross Encore for Xbox One from the Xbox Games Store
Product Info:
Developer: Rainbow Studios
Publisher: Nordic Games
Website: MX vs. ATV Supercross Encore
Twitter: @NordicGamesAT / @MXvsATV