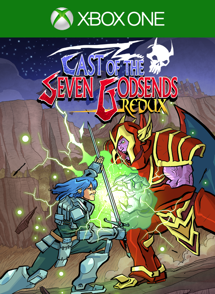 Content: Cast of the Seven Godsends – Redux
Check price and availability in your Xbox LIVE region
Game Description: Cast of the Seven Godsends harks back to the days when classic 2D, run 'n gun, action-shooter games ruled the arcades. Four levels of difficulty, six worlds to conquer, twelve mid and end-of-level bosses, seven god-like armour sets, five basic weapons and thirty-five magic combat spells! King Kandar must call upon the aid of the seven gods of Dareca as he traverses the six worlds of his kingdom in a bid to save his son.
Purchase Cast of the Seven Godsends – Redux for Xbox One from the Xbox Games Store
Product Info:
Developer: Raven Travel Studios
Publisher: Merge Games Ltd.
Website: Cast of the Seven Godsends – Redux
Twitter: @RavenTravelStd / @MergeGamesLtd