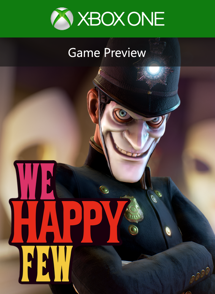 Content: We Happy Few
Check price and availability in your Xbox LIVE region
Game Description: This game is a work in progress. It may or may not change over time or release as a final product. Purchase only if you are comfortable with the current state of the unfinished game.
We Happy Few is the tale of a plucky bunch of moderately terrible people trying to escape from a lifetime of cheerful denial in the city of Wellington Wells. Set in a drug-fuelled, retrofuturistic city in an alternative 1960s England, you'll have to blend in with its other inhabitants, who don't take kindly to people who don't abide by their not-so-normal rules.
Purchase We Happy Few for Xbox One from the Xbox Games Store
Product Info:
Developer: Compulsion Games
Publisher: Compulsion Games
Website: We Happy Few
Twitter: @CompulsionGames