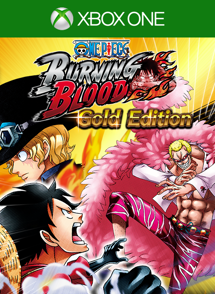 Content: One Piece: Burning Blood
Check price and availability in your Xbox LIVE region
Game Description: Assemble Your Crew: Build your crew with a roster of 40+ characters each with unique abilities and battle tactics! Swap crew members on the fly utilizing strategic offensive and defensive Unity attacks! Select from a massive 60+ support characters to aid your crew in battle. Choose Your Side and Relive the Paramount War: Relive the drama of the Marineford story arc. For the first time in a One Piece game, fans can choose between either Luffy, Ace, Whitebeard or Akainu to experience the original story from a whole new perspective!
This bundle includes the game along with all the content from the Wanted Pack 1, Wanted Pack 2 and Luffy Pack.
Purchase ONE PIECE BURNING BLOOD – Gold Edition for Xbox One from the Xbox Games Store
Purchase One Piece: Burning Blood for Xbox One from the Xbox Games Store
Purchase One Piece: Burning Blood Deluxe Edition for Xbox One from the Xbox Games Store
Product Info:
Developer: SPIKE CHUNSOFT Co., Ltd.
Publisher: BANDAI NAMCO Entertainment
Website: One Piece: Burning Blood
Twitter: @SpikeChunsoft_e / @BandaiNamcoUS