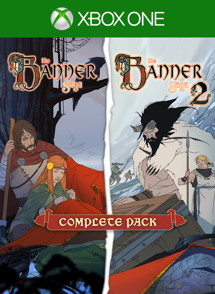 Content: The Banner Saga Complete Pack
Check price and availability in your Xbox LIVE region
Game Description: Get both The Banner Saga and The Banner Saga 2 for one great price! In this award-winning adventure, live through an epic role-playing Viking saga where your strategic choices directly affect your personal journey. Lead your caravan across this stunning yet harsh landscape as you fight for survival against an unimaginable threat that jeopardizes an entire civilization. Every decision you make in travel, conversation and combat has a meaningful effect on the outcome as your story unfolds. Tough choices and decisions will mean the loss of those you hold dear. Not everyone will survive, but they will be remembered.
Buy now and save 15% – Limited Time Offer.
Purchase The Banner Saga Complete Pack for Xbox One from the Xbox Games Store
Purchase The Banner Saga for Xbox One from the Xbox Games Store
Purchase The Banner Saga 2 for Xbox One from the Xbox Games Store
Product Info:
Developer: Stoic
Publisher: Versus Evil
Website: The Banner Saga
Twitter: @stoicstudio / @vs_evil / @BannerSaga