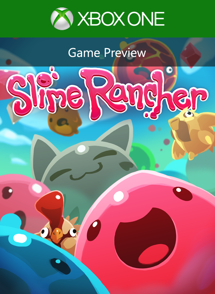 Content: Slime Rancher (Game Preview)
Check price and availability in your Xbox LIVE region
Game Description: This game is a work in progress. It may or may not change over time or release as a final product. Purchase only if you are comfortable with the current state of the unfinished game.
Slime Rancher is the tale of Beatrix LeBeau, a plucky, young rancher who sets out for a life a thousand light years away from Earth on the Far, Far Range where she tries her hand at making a living wrangling slimes. With a can-do attitude, plenty of grit, and her trusty vacpack, Beatrix attempts to stake a claim, amass a fortune, and avoid the continual peril that looms from the rolling, jiggling avalanche of slimes.
Purchase Slime Rancher (Game Preview) for Xbox One from the Xbox Games Store
Product Info:
Developer: Monomi Park
Publisher: Monomi Park
Website: Slime Rancher
Twitter: @monomipark