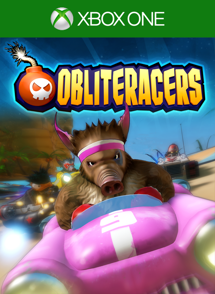 Content: Obliteracers
Check pre-order price and availability in your Xbox LIVE region
Game Description: You may pre-download this game, but it will not be playable until 12:01 AM EST on the release date (8/26/16).
Race brutal-cute aliens on exotic planets, using weapon powerups and physics-based vehicles to annihilate your competition in frantic round-based combat. Features addictive racing mayhem for all ages featuring brutal-cute aliens, exotic locations and absurd weapon powerups. Squeeze 8 local players onto the same screen and battle friends and family on the couch, compete against others online, or play career mode solo.
Xbox One Pre-Order FAQ