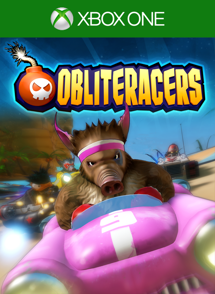 Content: Obliteracers
Check price and availability in your Xbox LIVE region
Game Description: Race brutal-cute aliens on exotic planets, using weapon powerups and physics-based vehicles to annihilate your competition in frantic round-based combat. Addictive racing mayhem for all ages featuring brutal-cute aliens, exotic locations and absurd weapon powerups. Squeeze 8 local players onto the same screen. Battle friends and family on the couch, compete against others online, or play career mode solo against punishing bots.
Purchase Obliteracers for Xbox One from the Xbox Games Store
Product Info:
Developer: Space Dust Studios
Publisher: Deck13 Interactive
Website: Obliteracers
Twitter: @Deck13_de / @SpaceDustStudio