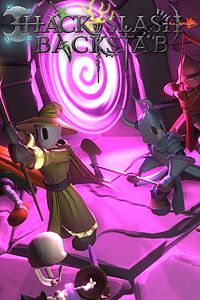 Content: Hack, Slash & Backstab
Check price and availability in your Xbox LIVE region
Game Description: Hack, Slash & Backstab is a 1 – 4 Player Couch Co-Op Dungeon crawler, that pits players against a dungeon teeming with evil creatures. Players collect powerful items, perform special attacks, and fight boss monsters in a quest to find the portal that will let them leave the dungeon. The catch is…only one of them can escape. Players will battle one another to be the one who survives, but making the mistake of betraying your "friends" too soon may cost you your life. Hack, Slash & Backstab – where the dungeon is dark, and your friends aren't friendly.
Purchase Hack, Slash & Backstab for Xbox One from the Xbox Games Store
Product Info:
Developer: MAGIC Spell Studios
Publisher: MAGIC Spell Studios
Website: Hack, Slash & Backstab
Twitter: @IGMRIT