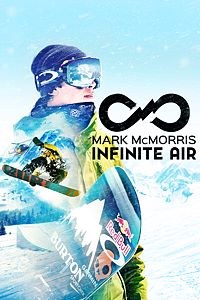 Content: Infinite Air with Mark McMorris
Check pre-order price and availability in your Xbox LIVE region
Game Description: You may pre-download this game, but it will not be playable until 12:01 AM EST on the release date (10/25/2016).
Mark McMorris Infinite Air is a fresh welcome into snowboarding for newcomers and a challenging step into untracked territory for seasoned boarders. Get ready to shred custom-built runs and show off gnarly tricks across vast, personalized terrain parks. Awe-inspiring environments, fluid snowboarding maneuvers and authentic competitions craft an exhilarating and realistic experience on the snow. Infinite Air is equipped with an enhanced editor that allows players to create custom parks for complete immersion into the sport of snowboarding. Get to know the snow like never before as you build the ultimate runs with jumps, cliffs, rails, ramps, slaloms and countless other items, taking the next step to defining your riding style!
Xbox One Pre-Order FAQ