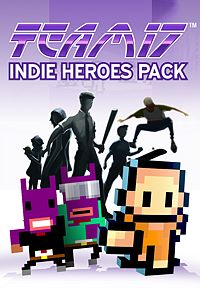 Content: Team17 Indie Heroes Pack
Check price and availability in your Xbox LIVE region
Game Description: Team17 swings into action and delivers a beefed up, muscle-bound slice of awesome Indie action in the Team17 Indie Heroes Pack for Xbox One! Games included in this bundle:
The Escapists – The award winning prison break simulation that lets players experience a light-hearted insight into everyday prison life. Master the routine, plan your strategy then execute your Escape.
Not A Hero: Super Snazzy Edition – The funstoppable 2.25D pixelated action opus from Roll7. Shoot, slide and execute your way through 28 levels of incredibly British action and humor.
Sheltered – A deep and emotional post-apocalyptic survival management game.
Olli Olli2: XL Edition – The definitive edition of the acclaimed skating game. It introduces the brand-new Free-Skate mode; extended, chilled levels to learn the ropes and nail those expert tricks.
Buy now and save 33% – Limited Time Offer.
Purchase Team17 Indie Heroes Pack for Xbox One from the Xbox Games Store
Product Info:
Publisher: Team17 Digital Ltd.
Website: Team17 Digital Ltd.
Twitter: @Team17Ltd