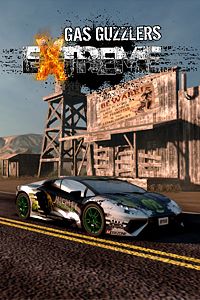 Content: Gas Guzzlers Extreme
Check price and availability in your Xbox LIVE region
Game Description: Gas Guzzlers Extreme is a fast, furious, armed-to-the-teeth, trigger-happy shooter, shifted into top gear! Take a white knuckle ride in this crazily addictive combat racing game that features a ton of vehicles, weapons, upgrades, on-track bonuses and environments. Gas Guzzlers Extreme is an exciting new twist on the car combat experience with the addition of furious team combat battles.
Purchase Gas Guzzlers Extreme for Xbox One from the Xbox Games Store
Product Info:
Developer: Gamepires
Publisher: Iceberg Interactive
Website: Gas Guzzlers Extreme
Twitter: @Gamepires / @Iceberg_Int