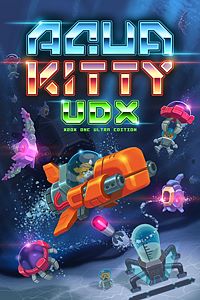 Content: AQUA KITTY UDX: Xbox One Ultra Edition
Check price and availability in your Xbox LIVE region
Game Description: AQUA KITTY UDX blasts onto Xbox One in this enhanced Ultra Edition including an all new epic Dreadnought mode! Due to a sudden shortage of milk, cats around the world are forced to seek out new sources to get their fix. You and your team of milk mining kittens have overcome a fear of water to drill down under the ocean seabed and begin extracting vast reserves of what seems to be naturally forming full-fat milk. Get ready for fast paced submarine action, defending the kittens from disruptive mechanical sea creatures.
Purchase AQUA KITTY UDX: Xbox One Ultra Edition for Xbox One from the Xbox Games Store
Product Info:
Developer: TIKIPOD
Publisher: TIKIPOD
Website: AQUA KITTY UDX: Xbox One Ultra Edition
Twitter: @TIKIPODltd