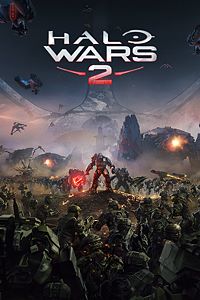 Content: Halo Wars 2 DEMO
Check availability in your Xbox LIVE region
Game Description: Real-time strategy makes an explosive return to the Halo universe in Halo Wars 2. Lead Spartans, Warthogs and other classic Halo fighting forces in a brutal war against a terrifying new enemy on the biggest Halo battlefield ever. All-new, Action-packed Story – The heroes of Halo Wars return to find themselves – and the galaxy – in more danger than ever.
Included in the demo is a first look at the campaign with mission one, "The Signal," as well as Blitz Firefight where you can test your mettle against waves of AI using a pre-built deck of cards from Captain Cutter or Atriox. The demo is available for all Xbox Live Gold members on Xbox One today, and is coming soon to anyone with a Microsoft account on Windows 10 PC.
Download Halo Wars 2 DEMO for Xbox One from the Xbox Games Store
Purchase Halo Wars 2 for Xbox One from the Xbox Games Store
Purchase Halo Wars 2: Ultimate Edition for Xbox One from the Xbox Games Store
Product Info:
Developer: 343 Industries
Publisher: Microsoft Studios
Website: Halo Wars 2
Twitter: @Halo