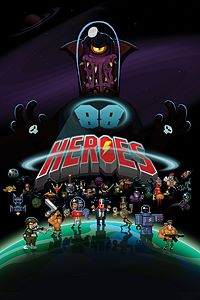 Content: 88 Heroes
Check pre-order price and availability in your Xbox LIVE region
Game Description: You may pre-download this game, but it will not be playable until 12:01 AM EST on the release date (03/24/2017).
It's 8:08 am on the 8th of August 1988, and the evil Dr. H8 has brought the world to the brink of total annihilation! His demands are simple: pay $88 octillion within 88 minutes, or Dr. H8's 88 thermo-nuclear warheads will wipe out the Earth! Prepare to infiltrate Dr. H8's lair with the help of the strangest, dumbest and most pointless superheroes ever! With 88 levels between you and Dr. H8, only 88 seconds to complete each level and the 88-minute Doomsday clock already ticking, lead 88 unique characters – each with their own special abilities – on a platform-hopping, enemy-smashing, danger-dodging mission to save Earth from complete destruction!
Xbox One Pre-Order FAQ