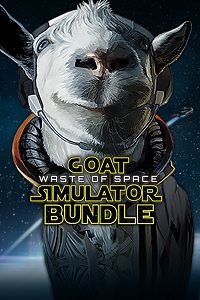 Content: Goat Simulator: Waste Of Space Bundle
Check price and availability in your Xbox LIVE region
Game Description: Goat Simulator is all about causing as much destruction as you possibly can as a goat. Destroy things with style, such as doing a backflip while head-butting a bucket through a window, and you'll earn even more points! Goat Simulator is a completely stupid game and, to be honest, you should probably spend your money on something else, such as a hula hoop, a pile of bricks, or maybe pool your money together with your friends and buy a real goat. Goat simulation is finally leaving the planet where it was once conceived to explore the endless possibilities of space. You no longer have to fantasize about colonizing space as a simulated goat. Your dreams have finally come true.
This bundle includes Goat Simulator and Goat Simulator: Waste Of Space Add-On.
Purchase Goat Simulator: Waste Of Space Bundle for Xbox One from the Xbox Games Store
Purchase Goat Simulator: Waste Of Space Add-On for Xbox One (if you own the original Goat Simulator)
Product Info:
Developer: Double Eleven Limited
Publisher: Double Eleven Limited
Website: Goat Simulator: Waste Of Space Bundle 
Twitter: @DoubleElevenLtd / @Goat_Simulator