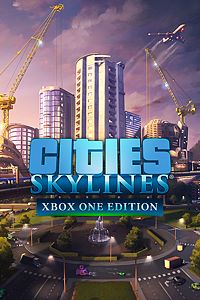 Content: Cities: Skylines – Xbox One Edition
Check pre-order price and availability in your Xbox LIVE region
Game Description: You may pre-download this game, but it will not be playable until 1:00 AM EST on the release date (04/22/2017).
Cities: Skylines – Xbox One Edition puts you in charge of a growing city – from the ground-breaking of its first streets to the ever-changing needs of thousands of citizens. Design, build, and manage the city of your dreams, from public services to civic policies, and challenge yourself to grow from a simple town to a bustling metropolitan hub. Cities: Skylines is an award-winning, best-selling management game, now available for the Xbox One with all of its robust city-simulation gameplay and unique charm along for the ride. The Xbox One Edition includes the base game and the popular After Dark expansion, allowing players to plan and design for their cities' nightlife and tourist attractions.
Xbox One Pre-Order FAQ