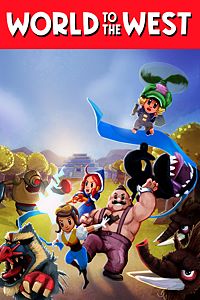 Content: World to the West
Check pre-order price and availability in your Xbox LIVE region
Game Description: You may pre-download this game, but it will not be playable until 12:01 AM EST on the release date (05/06/2017).
A teleportation-mishap, a broken contract, a mysterious tree and a foolhardy expedition set the stage for our four heroes. Follow Lumina, Teri, Knaus and Clonington on a rip-roaring adventure full of twists and turns through the World to the West! The game is focused around, exploration, action and environmental puzzles, often with many different solutions, depending on the character you play and your ability to think creatively around their abilities. This adventure of fantastical science lets you play as four different and unique characters. The story is that of their tales, and the grand mystery of this lost land that shrouds an ancient danger.
Xbox One Pre-Order FAQ