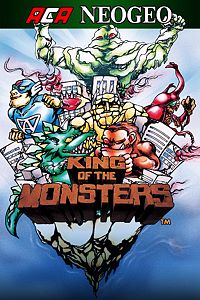 Content: ACA NEOGEO KING OF THE MONSTERS
Check price and availability in your Xbox LIVE region
Game Description: KING OF THE MONSTERS is an action game released by SNK in 1991. Players choose from one of the six monsters available, and battle their way across Japan in order to claim the title of strongest monster. In addition to normal attacks such as punches and kicks, master more destructive techniques such as flame and beam attacks to overcome the enemies.
Purchase ACA NEOGEO KING OF THE MONSTERS for Xbox One from the Xbox Games Store
Product Info:
Developer: SNK
Publisher: HAMSTER Corporation
Website: ACA NEOGEO KING OF THE MONSTERS
Twitter: @SNKPofficial / @HAMSTER_Corp